Well, that was wonderful. Thank you for choosing Lynda Anne Shop. Hope you enjoyed the sale. Follow us on social media to get the details on the next sale.

Wall Murals Are 25% OFF Today!!

Reduced From $299.99 To $224.99!! TODAY!

Click The Image To Buy Now

Wall Murals Are Now Available at Lynda Anne Shop!

Society6 is now partnering with artist to give customers a sophisticated new option in interior design. Wall murals are a beautiful and dramatic accent to any room in your home, business, or office. The bang for your buck is unbeatable. The murals apply as easily as applying wallpaper. But the result is beyond impressive. Make an affordable and easy, yet dramatic, upgrade to your living and work space. Your walls are your canvass; make them artful expressions of your style and taste. Most importantly, make them pleasing and uplifting to your spirit. Bring the restorative touch of nature indoors will wall murals. Here are the first two arrivals to Lynda Anne Shop. Stay tuned for more styles to choose from.

Spring is here and it's hunting season – flower hunting season! Lynda Anne is heading off the beaten path on an adventure to hunt the best blooms for your aesthetic pleasures! She will be camping the only way she knows how, rough. Follow her adventures on her

Lynda Anne Art Blog

Support her adventures by continuing to do what you're already doing:

Shop Lynda Anne Shop

;)

Thank You!!

Learn more by clicking on the California Poppies:
Powered by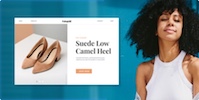 Create your own unique website with customizable templates.